Video yang sangat baik oleh pakar kami. TUTORIAL | How To Use A Wireless Trigger & Receiver Set From Altura Photo For CANON & NIKON Cameras. Camera reviews and recommendation by our experts. New camera price updates. Check it out here.
Topik: panduan untuk menggunakan kamera
Check out this video to learn more about how to use Wireless Trigger & Receiver set from Altura Photo for Canon & Nikon Cameras. Get yours: #CommissionsEarned
Get yours here:
For Canon Lens:
For Nikon Lens:
Features:
– 16-channel transmitter and receiver unit with operating range of 30m (100ft)
– Max Sync speed of 1/250th sec
– Multi-purpose trigger set allows you to trigger both your flash and camera.
– Receiver features a ¼" tripod thread for connecting your flash to a light stand or any device with a ¼" mounting screw.
Instructions for use:
Off-Camera Flash Setup:
– First, set the transmitter and receiver to the same channel. Next, attach the transmitter to the camera's hot shoe, and the receiver to bottom of your flash. Once you have the receiver and transmitter secured, set the switch on the receiver to "FLASH," and your flash to manual.
Wireless Camera Remote:
– Attach the receiver to the camera using the supplied camera connection cable. Next, set the receiver to "CAMERA." Push the button half-way to focus, and completely to trigger the shutter.
Compatibility:
Compatible with all Canon and Nikon cameras featuring a standard hot-shoe mount, including:
– DSLRs Canon: e.g. EOS 5D MK IV, 7D MK II, 80D, T6S, T6I, T6, 70D, 60D, T3I, T5I, XSI, XTI, 5D
– Powershot: e.g. G16, G1X MK II, SX60 HS, SX50 HS,
– Mirrorless: e.g. EOS M
– DSLRs Nikon D810 D750 D7200 D5500 D3300 DF D3200 D5200 D7100 D90 D300s D50
– COOLPIX A, P7800, P7700, P7100, P7000, P6000
– Studio flashes featuring either a mini (3.5mm) or ¼" phono input
****************************************************************************
We are a participant in the Amazon Services LLC Associates Program, an affiliate advertising program designed to provide a means for us to earn fees by linking to Amazon.com and affiliated sites.
Visit our Amazon Storefront: #CommissionsEarned
Visit our Website:
If this video was helpful please click thumbs up and subscribe to our channel.
Happy shooting! – Izzy & Adam
*********************************************************************
#Wireless #Trigger #Receiver #Flash #TTL #CameraFlash #Speedlight
TUTORIAL | How To Use A Wireless Trigger & Receiver Set From Altura Photo For CANON & NIKON Cameras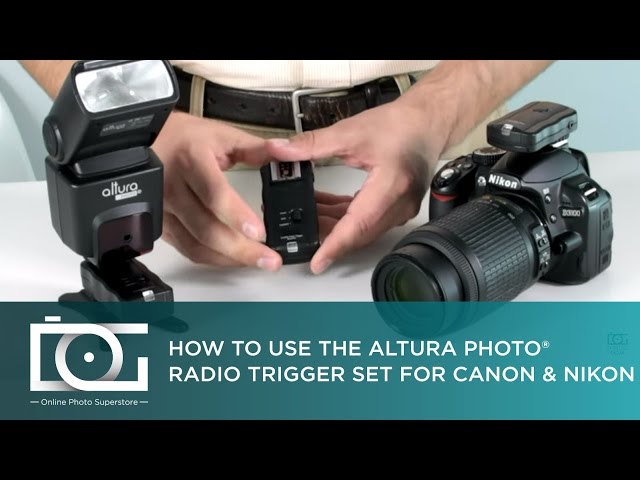 TUTORIAL | How To Use A Wireless Trigger & Receiver Set From Altura Photo For CANON & NIKON Cameras